What have I been reading lately? Just a little of
this
and a little of
that
. Oh, and these.
11 & 12)
"Catching Fire" and "Mockingjay" by Suzanne Collins
Obviously, since I read the first one I had to finish the whole series. That's what happens when the ending of every book is a giant cliffhanger. But I'm really glad I re-read the whole series, because I was
shocked
by how much I didn't remember after the first time I read it. Like, obviously a lot of people die because this is a demented series, but I had forgotten
who
. And
why
. And that whole thing with the hijacking. And most of the stuff about the war. So if you haven't read it in a while — or like me, rushed through it too fast the first time — I recommend going back and taking another go at it. It's still just as riveting if you go slow, and I think I'll hopefully remember more this time. (Bonus: Allison hosted a
great discussion of the third book over on The Book Lovers' Nest
a few weeks ago, if you're like me and still can't get enough of these books!)
13)
"Love Wins" by Rob Bell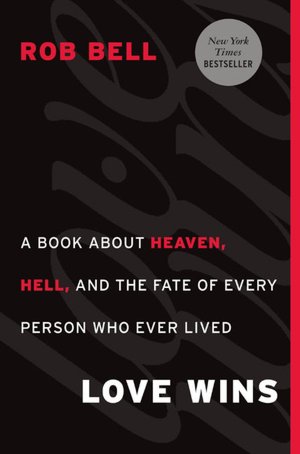 My Bible study group decided to read this together. We had previously watched some of Pastor Bell's
Nooma
videos and really enjoyed the unique perspectives he has on faith and the Bible, so we figured it would make an interesting discussion. Hoo boy. This was a short book, but a very intense read. Bell discusses the Christian vision of "heaven" and "hell," and argues that we've got it all wrong when it comes to judging God's character and the way He operates when it comes to life and death. He argues that God doesn't have a massive personality switch the second we die in which he stops loving us and determines if we should be punished for eternity, the way we have made Him out to appear. In a book chock full of hypothetical questions, he has some excellent points, but our group was not in 100% agreement with every point Bell makes (I'm not sure I even completely understand all of his arguments). However, it was an interesting read on how Christians perceive this life vs. "eternity," as well as why we need to be bringing heaven closer to earth.
14)
"No Bullshit Social Media"
by Jason Falls and Erik Deckers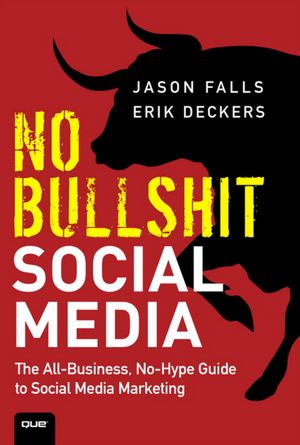 This book focused on social media marketing and using social platforms to get a leg-up on your competitors, and outlined general methods for using them and regulating them. A very interesting topic to me, but I thought this book dragged. While it absolutely made some good points, I felt like it was written for: a) a generation that doesn't understand or see the point of social media the way the current generation does; and b) large corporations that do not already have a social media presence and wouldn't know what to do with one if they did. There was a lot of emphasis on damage control and maintaining your brand's image, which was something I hadn't thought of before, but a lot of the information presented seemed like common sense to me, as someone who has been using social media for years. That said, it did have some excellent information and examples of companies utilizing social media successfully as a customer service tool.
15)
"D is for Deadbeat" by Sue Grafton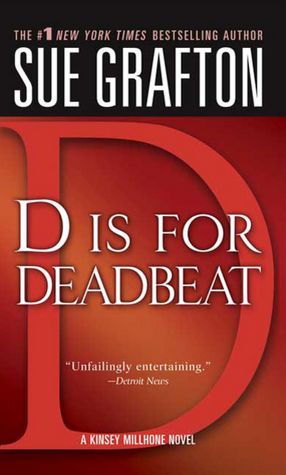 I have read several books in this series, all out of order, but luckily you can read them out of sequence and still get a good, contained story. I like Grafton's novels because they're serious in tone, quick reads, and don't give away every detail of the cases that main character Kinsey Millhone solves, so you can't figure out what the outcome is going to be halfway through the book. In "D," private investigator Millhone is approached by John Daggett, who has just gotten out on parole after being convicted of vehicular manslaughter. Daggett is looking for the teen whose family was killed in the car crash that put him in prison, to make amends with a large sum of money. However, before Millhone can find the teenager, Daggett washes up dead on the shore of the marina. Although the autopsy determines the cause of death to be accidental, Millhone can't let go of her client's task that easily and seeks to complete the job set before her — even if it means getting caught up in a case of murder.
16)
"Sarah's Key" by Tatiana de Rosnay
Somehow I wound up with two copies of this book. That should have been a clue that I needed to read it, but it sat on my shelf for about a year and a half before I picked it up. (I blame the cover art.) This historical fiction novel had dual storylines, chronicling the lives of both an 10-year-old girl in the 1940s and a present-day, middle-aged American, both living in Paris. Ten-year-old Sarah's family is Jewish, and the French police have come to arrest her entire family and 13,000 other Jews in the area to take them to the Vélodrome d'Hiver, a stadium used as a holding place before the Jews were transferred to concentration camps in both France and Poland. Sarah does not understand the implications of the police's arrival at her door, and hides her 4-year-old brother by locking him in a cupboard, promising to return for him. In 2002, journalist Julia Jarmond is living in Paris, working on a piece commemorating the 60th anniversary of what has become known as the Vél' d' Hiv' roundup. She is shocked at how little she knew about the city she had been residing in for 25 years, and even more shocked that the French people want to completely forget any responsibility they had in the roundup. In her research, Julia discovers Sarah's family, and — haunted by their story — determines to find out what happened to the little girl that disappeared from the historical records.
What genre is your favorite?