I normally prefer fiction to non-fiction, but last summer when I was perusing the library for audiobooks to listen to on the way to Chicago, I saw a title that piqued my interest: "Moonwalking With Einstein" by Joshua Foer. I had to see what that was about, so I checked it out, popped it into my computer and ripped the audio into iTunes so I could listen to it on my phone on the way out of town.
As I mentioned, I didn't get around to it
on the trip, and just started listening to it at the beginning of January, six months later.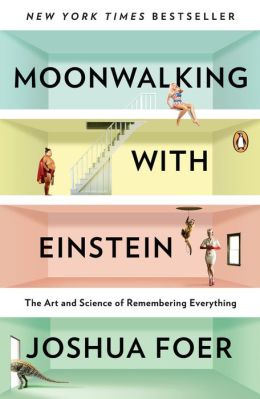 I found this book to be really fascinating. It's about the history of memory and the progression of how we went from a culture of memorizing and remembering everything, to one where we rely on books, calendars and lists to do our remembering for us. But the most fascinating parts for me were twofold — how a journalist with an average memory went on to train, and actually participate in, the U.S. Memory Championship, and how we can use the same strategies he used in order to memorize things.
Notice I didn't say "remember things." Because after the competition is over, Foer still finds that, like the rest of us, he has trouble remembering things like where he parked his car. Instead, the strategies are for helping you memorize things like your grocery list, complex lines of poetry, or entire decks of playing cards (because we all have use for that in our daily lives).
I know that sounds cynical of me, but seriously, it was a really good, interesting book even if it didn't have much practical application for me. The narrator had a good voice and kept a nice pace, and I never found myself growing bored. I'm giving it an
A-
.
Do you prefer fiction or non-fiction? What are you reading?
Check out my Recently Read sidebar to see what else I've been reading!