Reading is what I do for fun, but not going to lie, I was super stressed out this time around. I borrowed these first two from the library and put two other books on reserve (the last two on my last book post), and within a couple of days, I had four books that I suddenly had to finish within three weeks. Three of them were for book club, so I didn't want to renew and keep them from other people. And I was like AAAAAAH HOW AM I GOING TO READ A CUMULATIVE ALMOST-2,000 PAGES IN THREE WEEKS? (
I did end up renewing a couple of them. I just couldn't read fast enough.)
All this to say, I think I'll stick to one book at a time for a little while. Phew!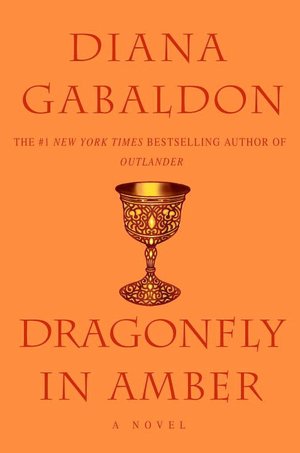 42) "Dragonfly in Amber" by Diana Gabaldon
I know I said I was going to wait a while before starting the sequels to "Outlander" (
previous review
), but I lied. I have to admit, I was curious how this series was going to last, because from the start, this book takes place 20 years after the last one ended — and Claire is back in her own time. So I was super worried that the storyline with her hot Scottish husband was over, but I really shouldn't have worried. It was still a good book, though it kind of messed with the plot of the original and I didn't like that. Also, this book was over 700 pages, so now I
really
feel like I need a break. I think I would still like to continue the series, but I don't feel quite as compelled to jump right into the next one, since I figured out how this one ended fairly early on. I had time to make my peace with it. :)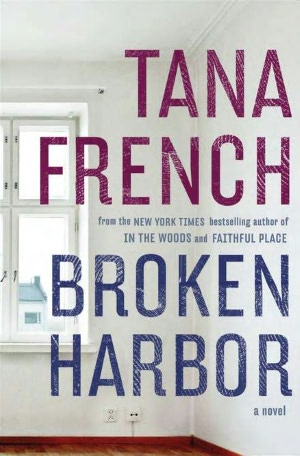 43) "Broken Harbor" by Tana French
While I wouldn't say "Harbor" was a couldn't-put-it-down novel, it was pretty darn good. Detective Michael Kennedy is called down to investigate a quadruple homicide in a remote city by the Irish Sea that used to be known as Broken Harbor. When one of the victims is found to still be breathing, Kennedy assumes she'll be able to tell the cops who attacked her, her husband and her two young children. But lies and family secrets (not to mention a secret stalker and gossipy neighbors) have muddied the truth so deeply that Kennedy feels not only the case spiraling out of control, but his own mental health at being back at the site of his own family tragedy. A very good book, I'd recommend it if you like detective novels.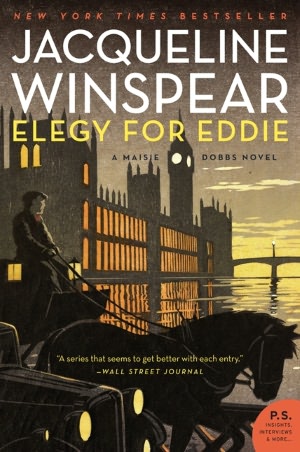 44) "Elegy for Eddie" by Jacqueline Winspear
This is book #9 in a series I
started eons ago
. (The first book is
"Maisie Dobbs"
for anyone who is interested.) I'll say this: even though Winspear does a good job of keeping her stories contained in each book, do not start "Elegy" unless you've read the others in the series, or you will have no idea what's going on with most of the characters. (I read #8 last fall, and I had already forgotten good chunks of their histories.) In "Elegy," some of Maisie's childhood friends turn up in her office with a new case: a boy they knew when they were kids, Eddie Pettit, has been killed in a factory accident, but they don't believe his death was accidental. When two of Eddie's acquaintances turn up dead within weeks of the accident, and one of Maisie's employees is brutally attacked, Maisie must decide which is more important: finding the truth or protecting and helping the ones she loves.
45) "The Shining" by Stephen King
I'll admit, I'm not a big fan of horror movies, because I don't like to be scared. I have seen the movie version of "The Shining," and didn't find it
too
scary, so Matt assured me that I could probably handle the book. (The book's plot is different than the movie's. The book is better.) Jack Torrance is an on-the-wagon alcoholic, who is offered a job as the caretaker at the Overlook Hotel for the winter. Located up in the mountains, the Overlook gets completely snowed in for several months of the winter, with no way to communicate or leave, save a CB radio and an old snowmobile. Jack moves his wife and son, Danny, into the hotel, but Danny can tell there's something wrong with the Overlook from his horrible nightmares and premonitions. Jack insists he needs the job and the time away will be good for the family, but as his sanity begins to slip, and the Overlook begins to take control, none of them will get away easily. (Recommended by
Amanda
.)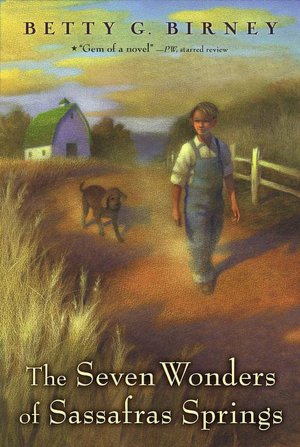 46) "The Seven Wonders of Sassafras Springs" by Betty G. Birney

I started reading "Wonders" because I needed something light to read before bedtime while I was reading "The Shining." (What! I don't want nightmares!) It's a children's book, but I didn't realize that when I bought it. (Matt told me it shouldn't count, even though it's 200 pages. I'm counting it. Plus I've read about 20 other kids books while volunteering at an elementary school, so they can be lumped together.) Eben is the son of a farmer, and has never left Sassafras Springs, Mo. He dreams of traveling to see the Seven Wonders of the World. His dad offers to buy him a train ticket to visit relatives in Colorado on one condition: Eben must find seven wonderful things about the town he lives in, or he'll never be able to appreciate the wonderful things somewhere else. His search brings up whimsical items and memories, and inspires the whole town to get involved. It was a cute book.
What's your favorite children's book?