Last week was a big, giant fail on the fashion front. I did get dressed up a few of the days, but then I forgot to take pictures, so I can't even prove it. So, in the hopes that you'll forgive me, I'll show you a few things my closet is coveting right now. I have stars dancing in my eyes for these just like a cartoon.
Lace Skirt — I have no idea how I'd wear this, but I waaaaant. It's so feminine and delicate! I also need the shoes.
Stripes Stripes Stripes — Nautical and fun! Or ... bold and funky!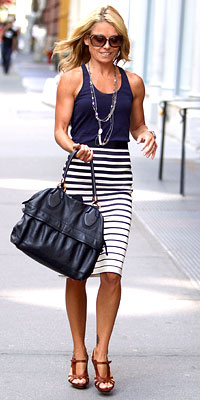 Florals — Most of the time when I try on floral prints, I feel like I'm about 12 and trying to throw it back to the '90s. Buuuut ... hello my pretty! You look fresh and gorgeous, and I am dying for the neckline and pockets.
What are your favorite current trends?