I can't believe this rounds out the halfway point for my 52 books in a year challenge!
22)
"Living Dead in Dallas" by Charlaine Harris
I think I would have liked to continue reading this series, but Book #2 is the last one I have, so I guess it's time to focus on other, non-"fluff" reading. Bummer, since I have enjoyed this series so far. Continuing from my last review, Sookie's telepathic abilities are out for hire when one of Bill's vampire friends contracts her out to a vampire nest in Dallas, so she can determine who kidnapped one of their members from a local bar. In addition, Sookie's friend and coworker Lafayette is murdered and stuffed into the car of Bon Temps' private investigator. Can Sookie figure out who the killer is and save the kidnapped vampire without winding up dead herself? (You already know the answer: yes, because there are a lot of books in this series. But it's entertaining nonetheless.)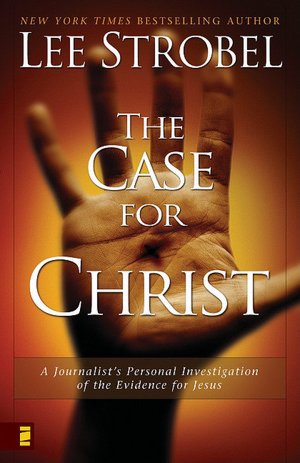 23)
"The Case for Christ: A Journalist's Personal Investigation of the Evidence for Jesus" by Lee Strobel
Bible study pick. We dug into some heavy books during the spring semester, and they have led to some really great discussions. In "Christ," Chicago journalist Strobel does not believe Jesus is the Messiah (or really, that anyone needs a Messiah in the first place), and is horrified when his wife becomes a Christian. So, in true journalistic fashion, he decides to interview the leading experts in the country on Christianity and Jesus to try to prove that the religion is not sound enough to hold water. But he is surprised when the gospels hold up to historical, archaeological, medical, psychological and scientific scrutiny.
24)
"The Shawshank Redemption" by Stephen King
I had never read anything by Stephen King before (other than his column in
Entertainment Weekly
), mainly because I'd pigeon-holed him as a horror writer, and I don't like scary stories. But Matt took a trip to Louisiana in May for a friend's bachelor party and picked up the "Shawshank" audiobook for the drive, then passed it along to me. In Shawshank Prison, Red is serving three consecutive life terms for killing his wife and two of his neighbors. While he's serving his time, banker Andy Dufresne is charged and convicted of murdering his wife and her lover, despite his claimed innocence. The brutality of prison life wears plenty of men down, but over the years Andy figures out how to manipulate the warden, the guards and the other inmates and exacts his revenge. The book was fantastic. We watched the movie a few weeks later, and it was also excellent.
25)
"The Crooked Hinge" by John Dickson Carr
I really enjoyed this mystery novel, though I found the ending a little ridiculous. I found it quick and engaging, if not a quite tangled story. Sir John Farnleigh is a wealthy man with an inherited estate and a good life, until another man shows up claiming to be the real John Farnleigh, and accuses the former of being an imposter. His former childhood tutor has the fingerprints of the real John, and subjects the two of them to a fingerprint test, but before the results can be discovered, the fingerprint evidence is stolen and one of the John Farnleighs is found with his throat slashed. But which John Farnleigh is dead — the real one or the imposter? And was it a guilty suicide or a malicious murder?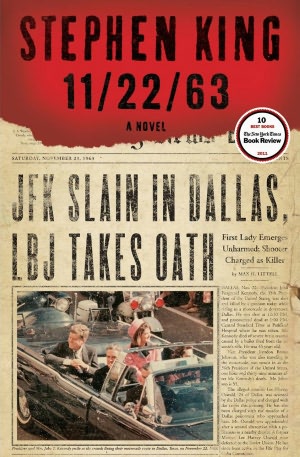 26)
"11/22/63" by Stephen King
THIS BOOK WAS SO GOOD, OMG GO READ IT RIGHT NOW. I think in a matter of weeks I've gotten addicted to Stephen King books. "11/22/63" tells the story of Jake Epping, a present-day English teacher. Jake often visits a diner, Al's Fatburger, and as Al succumbs to cancer, he tells Jake how he had stumbled upon a wormhole years ago that allows him to travel back to the summer of 1958, every visit a "reset" of the time before. Al convinces Jake that he has to go back and prevent the assassination of John F. Kennedy in 1963, a task Al was sure would change history for the better, but was not able to complete due to his illness. However, both Al and Jake discover the past does not want to be changed, and will do anything in its power to prevent change from happening; even the smallest alterations to history can cause ripples in the future. Jake knows he'll have to stay in the '50s and '60s for more than five years in order to prevent the assassination, and after so long of living in the past, he might not want to come back to the present after all.
What are you reading right now?